Meet Our Team
Midland Physiotherapy specialises in many services including Sport Injury Management, Back & Neck Pain and  Migraines & Headaches.
Our staff are highly trained and ready to help you find a path to a happy, healthy lifestyle. 
? 9274 1482
Sean Fuller
Principal Partner
Senior Physiotherapist
Master of Manual Therapy
Sean is Practice Principal at Midland Physio, and he believes that any health care should be a collaborative process between you and the clinician, working together to achieve your goals, whatever they may be.
Over the years, Sean has worked with many elite level athletes, including being part of the Hopman Cup medical team for many years, but he is equally inspired to help everyone to solve their problems and get the best out of their lives.
Sean has special areas or interest in treating headaches, shoulder pain and neck pain. He has a strong focus on the professional development of the whole team within Midland Physiotherapy so that they are delivering not only the best clinical experience but also the best customer service experience possible for you.
He is always keeping active, playing golf, basketball and indoor cricket, and having previously done the Ironman Triathlon, the Avon Descent and Rottnest Channel Swim. He is now trying to learn how to surf (very badly at this stage) and he loves to spend time with his family of three teenage kids.
Special Interests:
Treatment of Spinal Pain
Headaches
Shoulder Injuries
Sarah Mac Alasdair
* Please note, Sarah is currently not taking on new clients *
Principal Partner
Senior Physiotherapist
Master Musculoskeletal Physiotherapy
APA Sports Physiotherapist
Sarah graduated from Curtin University in 1994 and since then, she has combined her love of travel and sport throughout her physiotherapy career.  She has worked in Europe and across Australia with elite athletes from such diverse sports as rowing, cricket, Aussie Rules, tennis, basketball and rugby.
In addition to her love of managing sporting injuries, she also is passionate about developing effective and lasting management plans for other musculoskeletal conditions. Sarah has a strong interest in treating adolescent sporting injuries and has spent many winter mornings on the sideline covering Guildford Grammar rugby matches.  Otherwise, she spends her spare time as an unpaid uber driver for her four young children and loves to get out on the water fishing whenever possible.
Special Interests:
Treating Adolescent Sporting Populations
Providing quality care and management for clients with chronic musculoskeletal issues
Daniel Parasiliti
Partner
Senior Physiotherapist
Daniel has worked with many elite level sporting affiliations including WAFL football clubs, West Australian Ballet, Western Force, numerous local sporting clubs and is currently the Physiotherapist for Guildford Grammar and their football program.
Daniel is a proud husband, father of young twin boys and his little daughter. He is a mad Geelong supporter and loves a good Swan Valley red wine or cheese.
Special Interests:
Sporting and Musculoskeletal Injuries
Luke Bonnett
Partner
Senior Physiotherapist
Masters Clinical Physiotherapy Luke is passionate about making change in peoples' lives and finding long-term solutions to their problems. He has gained experience working as a physiotherapist in central London, worked closely with Guildford Grammar sporting teams, and in 2016 he completed a Masters of Clinical Physiotherapy specializing in Manipulative Therapy. Utilizing the most up-to-date clinical and research evidence Luke successfully treats all areas of the body but has a special interest in long-term low back and neck pain, over-use tendon problems, headaches, and shoulder pain.
When not at work Luke enjoys keeping fit with weights and running, travelling the world, spending time outdoors camping and fishing (and guilty pleasures of watching too many TV series).
Special Interests:
Long-term low back and neck pain
Over-use tendon problems
Headaches
Shoulder Pain
Izabela Wojtasik
Senior Physiotherapist & Pilates Instructor
Izabela graduated from Curtin University in 2014 and has enjoyed working at Midland Physiotherapy ever since.
She enjoys treating a wide range of conditions and has a keen interest in sporting injuries as well as chronic pain. She works closely with patients to determine the appropriate treatment and management plan to achieve their personal goals. Izabela also works in our studio as a clinical Pilates instructor where she runs Pilates classes as well as one-on-one patient rehabilitation. 
Izabela has a long history of dance experience and continues to dance and help manage her Polish Folkloric Dance Group. She also has a keen interest in the arts where she graduated with a Cert 4 in Music Theater. She enjoys spending time with her dog and going for runs along the river.
Susan Kingston
Senior Physiotherapist & Pilates Instructor
Susan worked for 4 years in public hospitals in musculoskeletal outpatients and orthopaedic wards, before moving to private practice in 2008.  Susan has a broad range of experience treating musculoskeletal and sporting conditions. She is passionate about helping her clients to find long term solutions to pain and injury using the latest evidence-based treatment and exercise techniques. Her treatments combine manual therapy, soft tissue work, acupuncture, and individualised exercise programs including clinical pilates. 
Outside of work, Susan is a busy mum of 3 beautiful children. She loves the outdoors, keeping fit and coffee catch ups!
Special Interests:
Managing low back, pelvic and hip pain
Managing neck and shoulder pain
Rourke Moynihan
Senior Physiotherapist
Rourke is a graduate of the University of Notre Dame with a Bachelor of Physiotherapy.
Rourke has been working in private practice since 2015 as well as working with various sporting teams, including Perth Heat Baseball, East Perth Football Club and the WA Women's State AFL team.
Outside of work, Rourke is keeps fit at the gym and doing Brazilian Jiu Jitsu.
Special Interests:
Neck and back pain
Headaches
Knee pain
Rehab post-surgery
Amy Zappavigna
Senior Physiotherapist & Head Pilates Instructor
Amy graduated from Curtin University in 2015, now working in Midland and the hills for over six years. Through her experience as a sports trainer through to becoming Head Clinical Pilates Instructor, she has honed her craft. 
Integrating essential clinical skills with her keen understanding of human movement, allows Amy to succesfully progress clients toward their best function and fitness. Goals big or small, Amy is passionate about planning and working with you on your path to achieve them. Her success also comes from her belief that understanding and treating you as an individual are key to this.
In her spare time, Amy is training for her next triathlon or lounging with her greyhound, Lewis.
 Special interests:
Running injuries

Rehabilitation of back pain 

Clinical Pilates
Samuel Morgan
Senior Physiotherapist & Pilates Instructor
Sam graduated from the University of Notre Dame with Double Degree in Physiotherapy and Exercise Sports Science at the end of 2017. Complimenting his experience in private practice Sam has worked with a number of different sporting teams including WA indoor netball association, East Fremantle Football club and Associates Rugby Union Football club.
Outside of work Sam maintains an active lifestyle and enjoys running, rugby, rock climbing and most recently Karate. If you cannot find him in Perth he is probably out hiking gorges or camping down south.
Special Interests:
Sporting injuries
Thoracic Spine pain
Knee Pain
Caitlin Hagdorn
Senior Physiotherapist & Pilates Instructor
Caitlin is currently completing her post-graduate master's study in paediatric care and has experience across a variety of sports including gymnastics and rugby.
Mostly you'll find Caitlin creating obstacle courses and playing games for her paediatric therapy patients, otherwise she'll be energizing the Studio for her pilates clientele.
Special Interests:
Paediatric care

Sporting injuries
Knee pain
Gymnastics/dance/calisthenics
KC Seow
Senior Physiotherapist
KC graduated from Curtin University and completed his Masters in 2023.
He has great experience dealing with people of various disciplines. He has also been to the Pilbara as a FIFO Physiotherapist and understands the workload and concerns that FIFO workers have. He is also trained in Dry Needling.
His main goal in Physiotherapy is to get you back to what you love to do in the best and safest way possible. 
Throughout his time in physiotherapy, KC has developed special interest in treating backs, necks, shoulders and sport injuries. KC also performs daily gymnastic based strength training, where he uses his body weight as resistance rather than weights. If hitting the heavy weights in the gym doesn't really appeal to you, and you are looking for an alternative view on exercises, then KC is your man!
Ben Harris
Physiotherapist & Pilates Instructor
Ben graduated from Curtin University with a Bachelor of Science in Physiotherapy, and has experience in sports training for the WA State Netball Competition and coaching paracanoe at a local kayak club. 
Ben has previously been a high-level athlete in Sprint Kayaking, which is where his interest to become a physiotherapist started. He has a strong passion for treating a whole variety of musculoskeletal conditions and sporting injuries – and believes a holistic approach is best to identify the highest quality treatment for each individual.
Outside of work, Ben enjoys spending time outdoors surfing, kayaking, mountain biking and camping.
Special interests:
Sporting injuries
Neck and back pain
Shoulder pain
Hip pain
Edwin Liam
Physiotherapist
Edwin graduated from the Masters of Physiotherapy course in Curtin University. Before Physiotherapy, Edwin did a double Major (Sports Science and Exercise & Health) at UWA. 
Edwin previously worked as an Exercise Physiologist who was involved in the planning and execution of training for a Singapore university triathlon squad.  Edwin has also previously worked as a swimming instructor, for adults and children with intellectual disabilities. In addition to his background knowledge on hydrotherapy and functional rehabilitation, Edwin believes that any health care consultation should involve essential communication and collaboration.  This empowers patients to have the most holistic and enjoyable experience. 
Outside of work, when Edwin is not training or planning his next triathlon season, he enjoys learning new cooking recipes, getting engrossed in comics, and planning for the next coffee or night-out date with friends.
Areas of interests:
Sporting and Musculoskeletal injuries

Overuse injuries and functional rehabilitation.
James MacFarlane
Physiotherapist
James graduated from Curtin University with a degree in Physiotherapy (Honours). 
He has worked with Sorrento FC, Quinns FC, and Wolverines American Football club, where he learnt to efficiently assess sporting injuries and guide athletes towards their return to sport. 
James has conducted a two-year research project on resistance training, and ensures his physiotherapy treatment and management approaches are up to date with emerging research to provide the best results for his patients. 
James also works at The Motion Academy where he coaches Parkour, a form of urban gymnastics, and prioritises teaching safe and efficient movement to people of all ages. 
Having experienced many injuries himself, James understands the frustration of not being able to participate in the activities that we love, and is passionate about helping people not only return to their previous levels of strength, mobility, and confidence, but surpass them!
In his spare time, James loves lifting heavy weights in the gym, freediving in the ocean, rock climbing, playing soccer, learning the guitar, and of course doing handstands, back-saults, and all things gymnastics!
Areas of Interest:
Shoulder pain

Headaches

Overuse injuries

Gymnastics / Parkour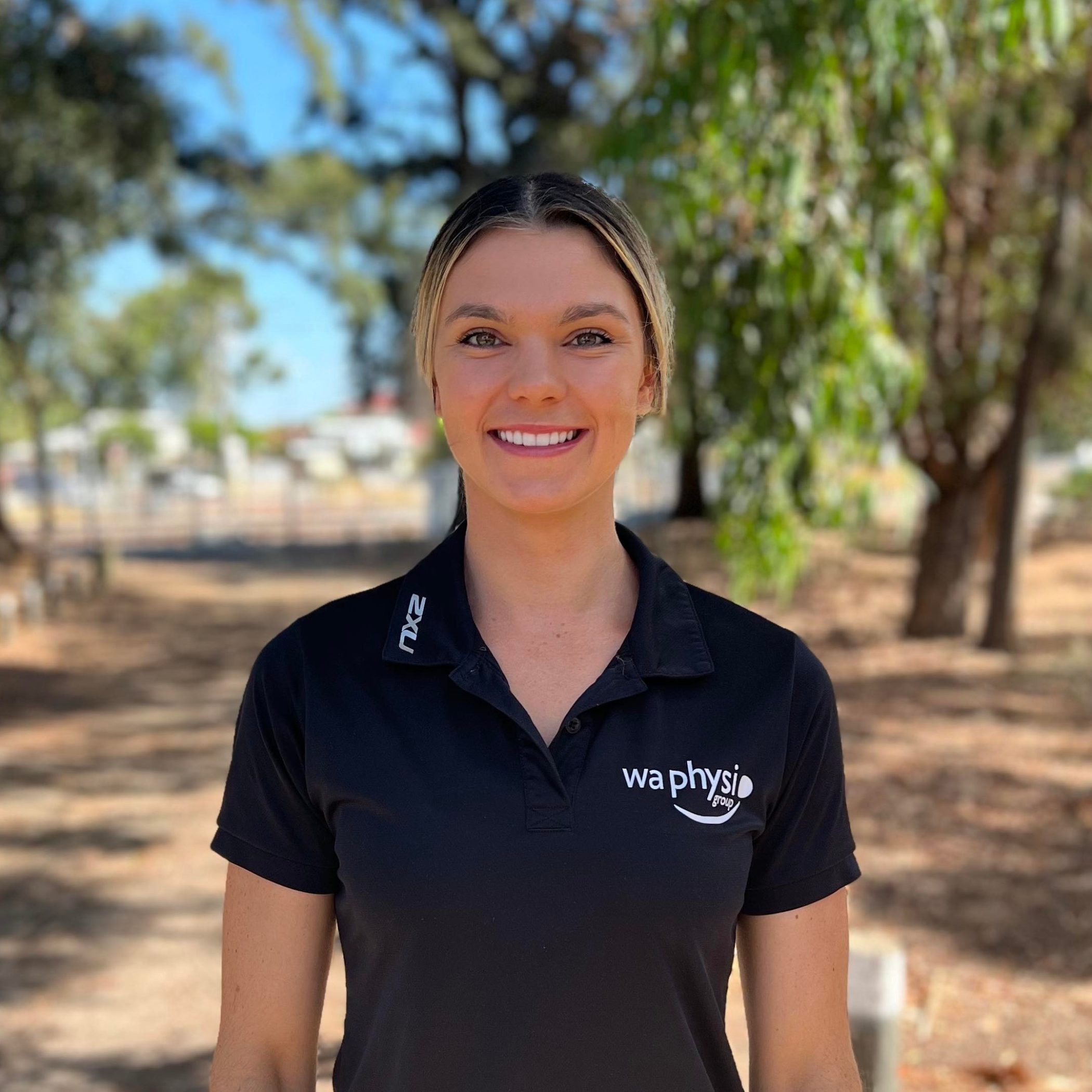 Benita Mercuri
Physiotherapist & Pilates Instructor 
Benita is a Curtin University graduate with a Bachelor of Science in Physiotherapy. She has gained experience in multiple health settings including hospitals, outpatient clinics and as a sports trainer for football, soccer and basketball teams. She has competed at a state level for bodybuilding, gymnastics and netball and at an international level for equestrian and tetrathlon.
Benita enjoys creating personalised rehabilitation programs to help you achieve your optimal health and fitness in the most effective way possible. She is passionate about helping restore athletes to their full potential and her extensive sporting background has equipped her with the skills to treat multiple musculoskeletal conditions.
When not at work, you can find Benita cruising along the coast on her skateboard or training for her next bodybuilding competition.
Liam McKay
Physiotherapist
Liam was born and raised in Kalgoorlie-Boulder and has graduated from Curtin University with a Bachelor of Science in Physiotherapy and a Bachelor of Science in Exercise, Sport & Rehabilitation. 
Liam has a special interest in sport and musculoskeletal related injuries and pain. With a strong passion for powerlifting and his past background in various sports including competitive swimming, Liam likes to facilitate his patients with active evidence-based recovery approaches to alleviate pain, improve performance and promote an overall improvement in quality of life. 
When not in the clinic, Liam likes to spend his time at the gym, hanging out with friends and family, and procrastinating with YouTube and Netflix. 
Special interests: 
Sporting injuries

Powerlifting/gym
Back pain
Knee pain
Chandler Smith
Physiotherapist & Pilates Instructor
Chandler graduated from Curtin University with a Bachelor of Science (Physiotherapy) and chose to dive straight into private practice as this is where his passion lies. Chandler has always been a competitive sportsman throughout his life, playing high-level tennis, soccer and hockey. He has been coaching tennis in the Perth Hills area for the past 10 years, as well as playing competitive tennis pennants leagues and tournaments. He believes in the importance of an active, balanced lifestyle and brings this approach to assisting individuals get back on track as quickly as possible.  
Outside of work, Chandler enjoys driving all over the country, 4x4ing and camping at the best destinations on offer. 
Special Interests:
Sporting injuries 

Knee pain 

Back pain
Megant Andhika
Physiotherapist & Pilates Instructor
Megant graduated from Curtin University with a Bachelor of Science in Physiotherapy with Honours, where she conducted research on musculoskeletal pain.
Megant is passionate about gym rehabilitation and introducing people of all ages and conditions to the benefits of strengthening exercises. Megant is also experienced in working with people with disability and their family members.
Megant has a goal-oriented approach to her practice, as she ensures collaboration between her and her patients in deciding the best treatment course to get them back to doing the things that matter most.
Outside of work, Megant enjoys spending time at the gym where she keeps fit with powerlifting. She can also be found in the kitchen, trying out new recipes while watching too much guilty pleasure shows!
Special Interests:
Long-term back and neck pain

Management of chronic musculoskeletal issues
Gym-based rehabilitation
Billy Sukroo
Physiotherapist & Pilates Instructor
Billy graduated from Curtin University with a Bachelor of Science (Physiotherapy) and values collaborative goal setting to make lasting changes in people's lives.
Billy has a strong passion for promoting recovery from a wide range of musculoskeletal conditions, in particular sporting injuries and low back pain. He integrates an evidence-based active approach alongside manual therapy. He's also achieved success with treatment of shoulder and neck pathologies, in addition to post-operative rehab focusing on individualised programs and return to normal function. 
Billy has developed experience in a wide variety of differing sporting injury diagnoses, there associated management and future prevention strategies through sport trainer roles at multiple Perth Football League teams.
Billy's spare time consists of integrating personal fitness with weights, enjoying the beach with friends or playing a round of golf.
Beth Antonio
Senior Physiotherapist & Pilates Instructor
Beth has 5 years of clinical experience as a physiotherapist, and is currently completing her Masters in Clinical Physiotherapy specialising in Continence and Women's Health at Curtin University.  Beth has also undertaken extensive training in Clinical Pilates.
Beth specialises in pregnancy and postnatal related issues, urinary leakage, rectus abdominis diastasis (abdominal muscle separation), bowel and bladder dysfunction, pelvic pain and pelvic organ prolapse. Beth particularly enjoys supporting and guiding women throughout all stages of life, from pregnancy to post-menopause to continue to exercise and be active. 
Outside of work Beth loves to travel and be outdoors, play hockey and spend time with family and friends. 
Qualifications and experience :
Bachelor of Physiotherapy 

Currently completing Master of Clinical Physiotherapy (Continence and Women's Health)

Clinical Interests :
Pregnancy and post-natal disorders

Clinical Pilates 

Urinary and faecal incontinence 

Rectus abdominis diastasis 

Pelvic organ prolapse 

Constipation

Overactive bladder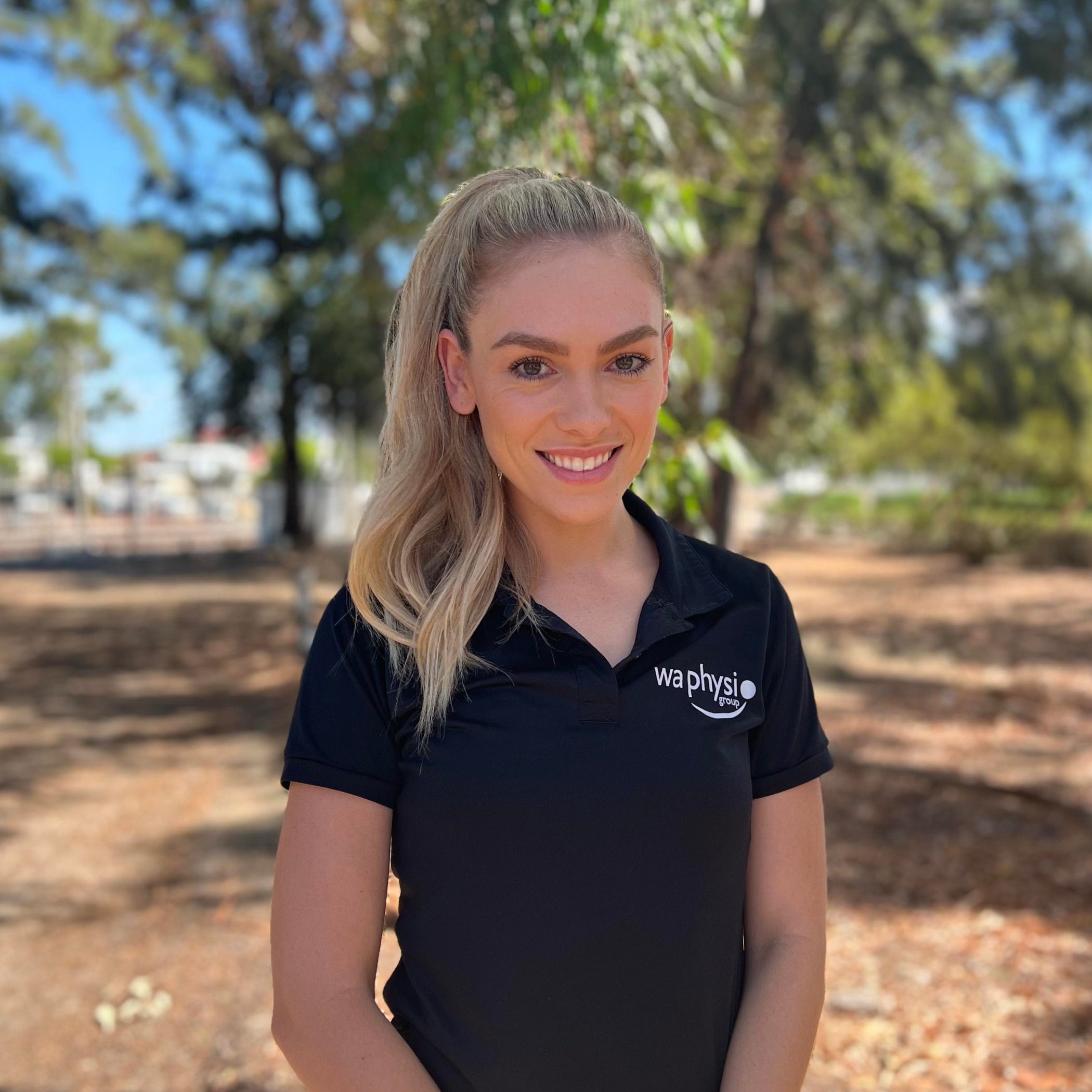 Paige Tanner 
Physiotherapist & Pilates Instructor
Paige enjoys treating a variety of musculoskeletal conditions and sporting injuries with an emphasis on a whole body approach in order to address the cause rather than simply managing symptoms. She has previously worked as a sports trainer gaining experience with acute injuries and rehab in the sports setting. Paige also has a keen interest in the management and prevention of injuries via Pilates, running both studio and mat classes in the clinic.
Outside of work, Paige enjoys travelling and keeping active playing netball, hiking and sweating it out in the gym. 
Special Interests:
Sporting Injuries
Neck pain and headaches
Persistent low back pain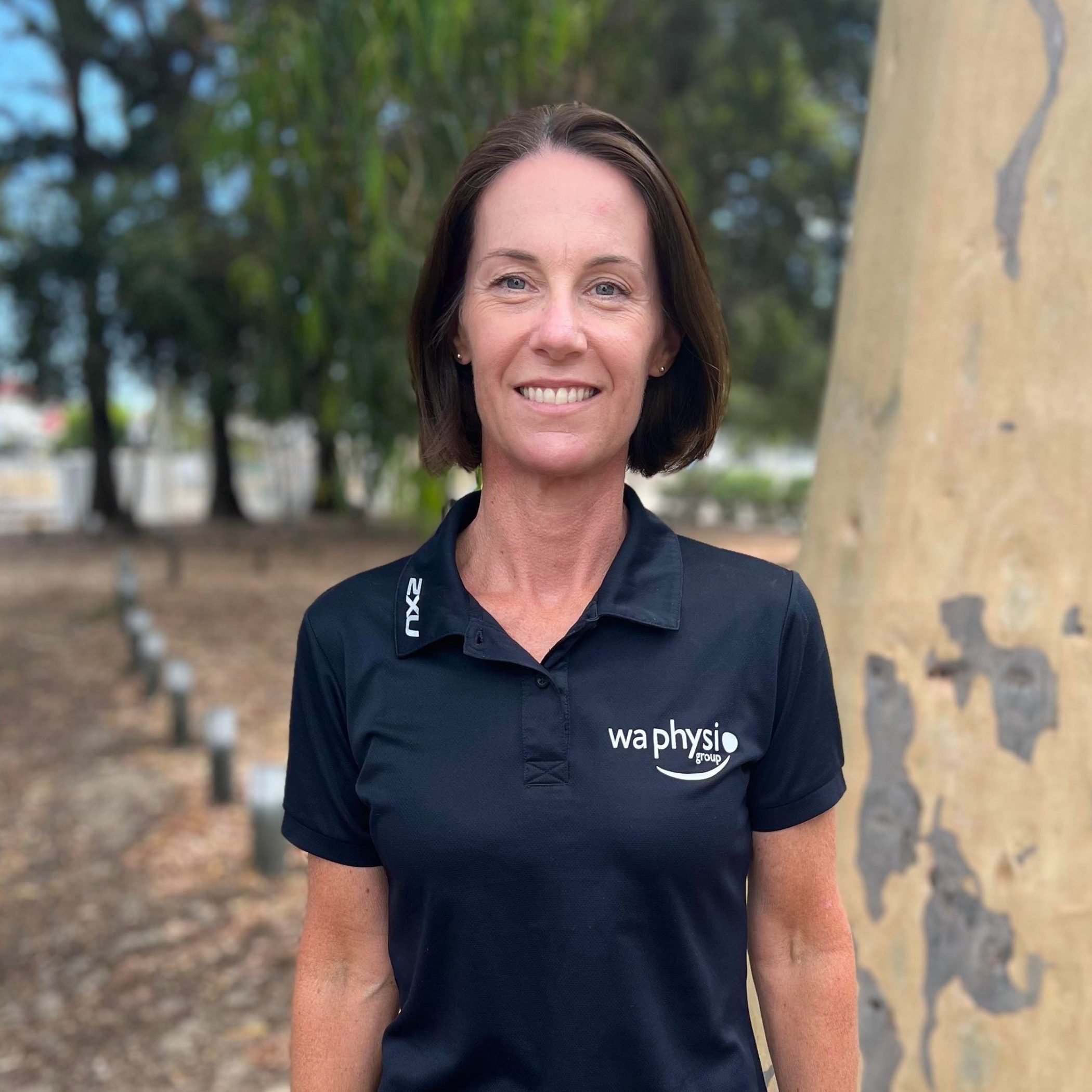 Simone Roach
Physiotherapist
Simone graduated from Curtin University with a Bachelor of Science (Physiotherapy) and is also a qualified Pilates matwork and reformer instructor.  
Simone believes strongly that physical activity and self-care are the key to a long, healthy and happy life. She works collaboratively with her clients to ensure that they can focus on the possibilities of their situation, rather than their limitations.
She has a special passion for showing seniors that aging does not come with an inevitable decline in function, having witnessed many seniors finish Ironman triathlons alongside her.
Outside of work, Simone is heavily involved in the triathlon community as an athlete, coach, technical official and club office holder. In addition, she coaches cycling within the Darling Range Sports College Triathlon program.
She also loves to cook which allows her to share her appreciation of delicious foods with her husband and their three cats.
Other Qualifications
* Athletics Australia Accredited Level 2 Running Coach
* Triathlon Australia Accredited Level 2 Development Coach
* Triathlon Australia Technical Official
Clinical Interests
* Running and Triathlon related injuries
* Strength and conditioning to support athletic and sporting goals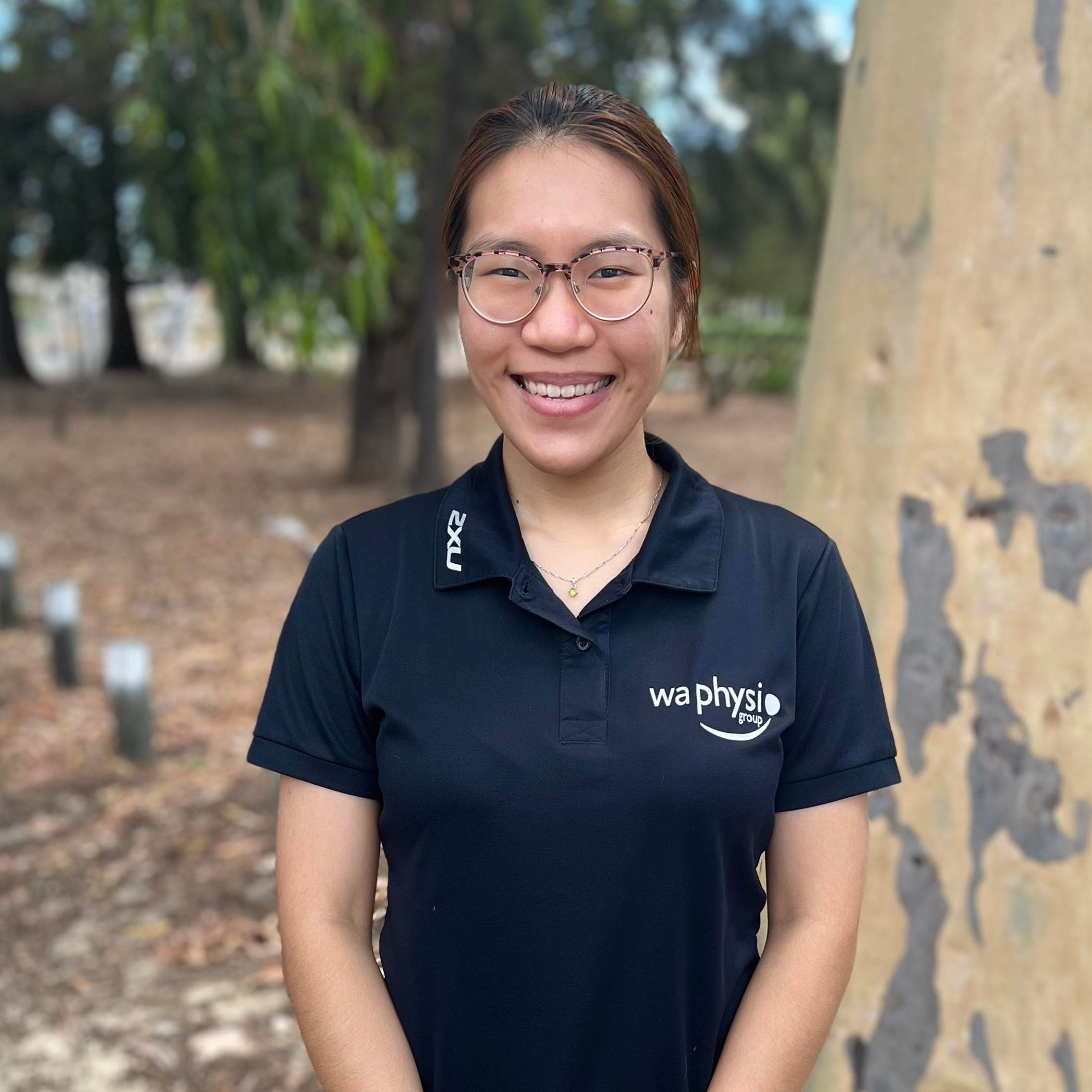 Mandy Lai
Physiotherapist
Mandy graduated from Curtin University with a Bachelor of Science in Physiotherapy and is
passionate about working together with her clients ensure the most suitable treatment and
management is provided.
Mandy has previously worked as a sports trainer with multiple football clubs, where she
developed experience in sports strapping and the management of different sporting injuries
(including shoulder, knee, and ankle injuries). She also has special interest in treating neck
and back pain.
Outside of work, Mandy enjoys spending time with her friends and family, and is also a big
puzzle fan from building jigsaws to solving the Rubik's cube and playing chess. When not
puzzling, you can find her unwinding with a book and a nice cup of tea, or in the kitchen
trying to learn how to cook.
Remedial Massage Therapists
Darius Jordan Ghezlou
Remedial Massage Therapist
Darius is a remedial therapist looking to create longevity in the bodies of all his clients. He has been playing sports and practising martial arts since a young age and has a keen interest in sports rehabilitation and injury prevention.
One of the main goals Darius has for his clients is to allow them to live their lives to the fullest, and as pain free as possible, through treatment plans designed to get you back to what you love doing as soon as possible.
Darius is trained in the techniques of:
Deep Tissue

Relaxation

Swedish Massage

Sports

Pregnancy

Active Release Therapy

Myofascial Release

Trigger Point Therapy

Lymphatic Drainage

Proprioceptive Neuromuscular Facilitation

EMMETT Therapy
Mihoko Richmond
Remedial Massage Therapist
Mihoko joins our Physiotherapy team after time working in her own mobile remedial massage business, and also continues to work in a specialised pregnancy massage clinic in Subiaco. She is the proud mother of two children and loves spending time with them outside exploring nature. 
Mihoko completed her Emmett therapy practitioner modules and has a strong interest in Oncology massage and Lymphatic Drainage. She plans to continue to further her oncology massage training and Emmett therapy. She is also currently volunteering at Soralis cancer care by providing massage. 
With every client, Mihoko aims to provide a customized, goal-orientated treatment along with education and information to improve postural balance. Her goal is to help clients manage their muscle pain or stiffness and help support them to live as pain-free as possible.
Mihoko is trained in the following Techniques:
Relaxation Massage
Deep Tissue
Trigger point
Myofascial Release
Manual Lymphatic Drainage
Reflexology
Emmett technique module 1, 2 and 3
Pregnancy massage 
Myofascial cupping 
Emmett Therapy Module 1-6, EP1 and Advanced Lymphatic Drainage
Oncology Massage Module 1
Kady Yaxley ** On maternity leave **
Remedial Massage Therapist

Australian Natural Therapist Association award of excellence.
Kady conducts her sessions with a thorough postural, range of motion and orthopaedic assessment and takes health history and lifestyle factors into consideration in order to address the cause of the presenting complaint. She is focussed on helping her clients progress towards their movement goals by helping them set achievable targets and providing simple and effective home-care tips.
Kady has a personal interest in natural health and pain science and uses her knowledge in these areas to help create a treatment plan that addresses the whole body – aiming to restore pain-free movement and improve general wellbeing. 
Kady is trained in treating a variety of conditions by using techniques such as:
Trigger point therapy

Myofascial Release

Muscle energy technique

Sports massage

Deep tissue massage

Functional release cupping

Joint mobilization

Strength and conditioning.
Amber Smith
Remedial Massage Therapist and Infant Massage Instructor

Amber has been in the complementary health industry for 15 years, after first discovering her passion for massage as a young child, which paved the way for her to complete the Diploma of remedial massage in 2007. She has worked in private practice both in Kalgoorlie and Perth, has worked with rugby teams, body builders, and utilised her skills treating archery competitors at National competitions. 
After returning to Perth, and wanting to diversify her skills and knowledge, Amber went back to study, earning a Bachelor of Health Science in Acupuncture. 
She believes in the importance of touch for all, and runs infant massage classes to teach specific massage skills to parents with the aim to help minimise any discomforts their babies may have. 
When not at work Amber is at home with her husband and 2 young children, or you may find her at the archery club, or sewing up a storm!
She classifies herself as a combination therapist, and in a treatment from her you may receive any of the following, if relevant to your needs:
Deep tissue therapy- incl. trigger points, myofacial release
Sports massage
Pregnancy massage
Gua sha (chinese scraping)
Cupping
NST Bowen therapy
Stretches
Acupressure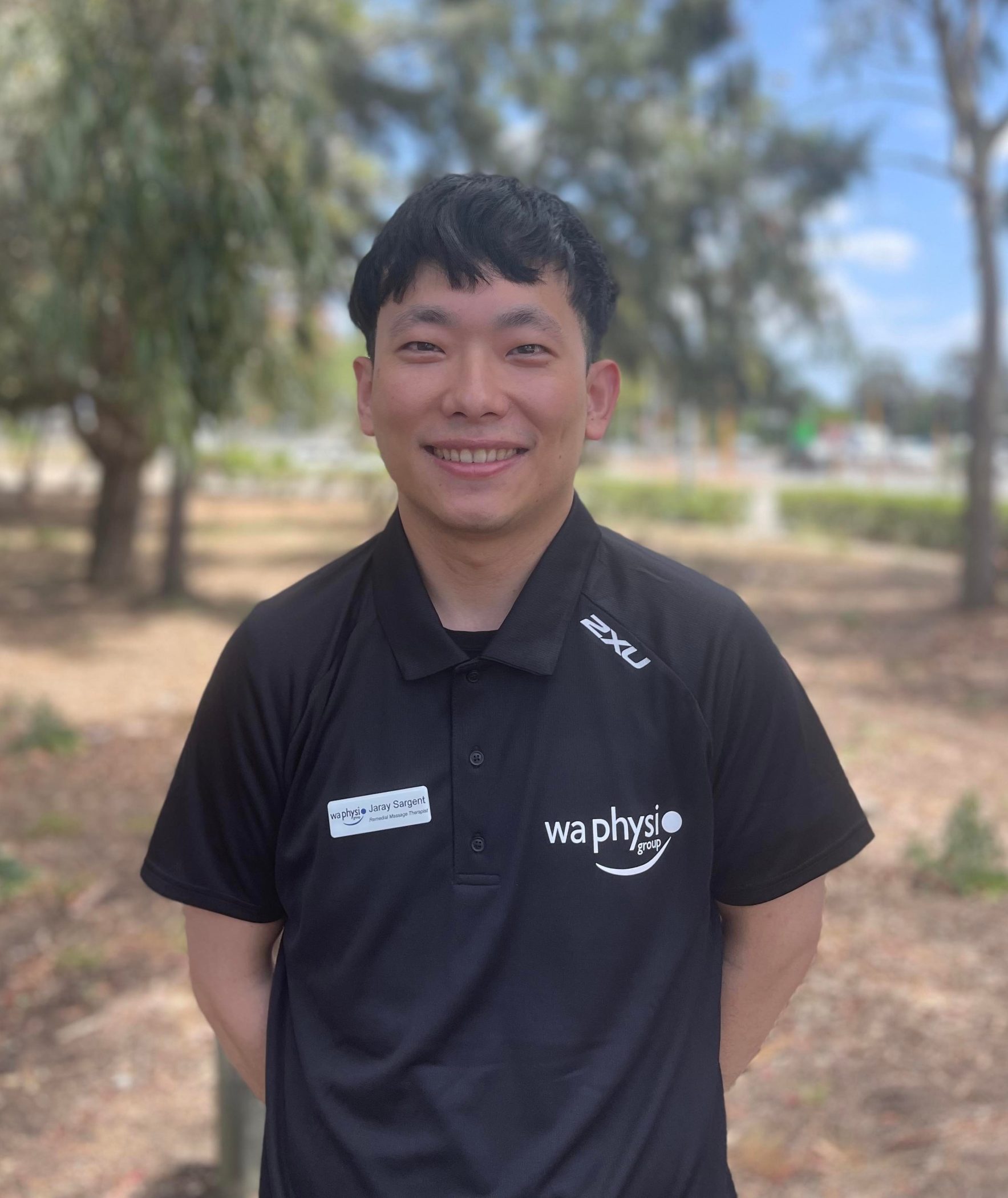 Jaray Sargent
Remedial Massage Therapist

Jaray has been working as a Remedial Massage Therapist for the past five years.
He loves working with people and considers every client as a new story and a new challenge and seeks to ensure that he provides the care that each individual needs.  From the older woman who has been given a massage voucher from her son for relaxation; the new mother who is tired and stressed; to the athlete who needs to perform their best, he works through the best treatment plan and addresses his clients needs.  He is on a mission to send his clients back to their lives with a recharged body!  
In his spare time, he loves to go for wildlife parks and farms and enjoy nature and the wildlife.  He is a passionate animal lover, but also a history lover!  Whether he travels near or far, he loves to immerse himself into the rich past and culture of where he is visiting.
Jaray is trained in the techniques of:
Swedish Massage / Relaxation Massage

Deep Tissue massage

Trigger Point Therapy

Myofascial Release

Manual Lymphatic Drainage

Muscle energy technique

Positional release technique 

Chinese Dry Massage 

Chinese foot massage

Reflexology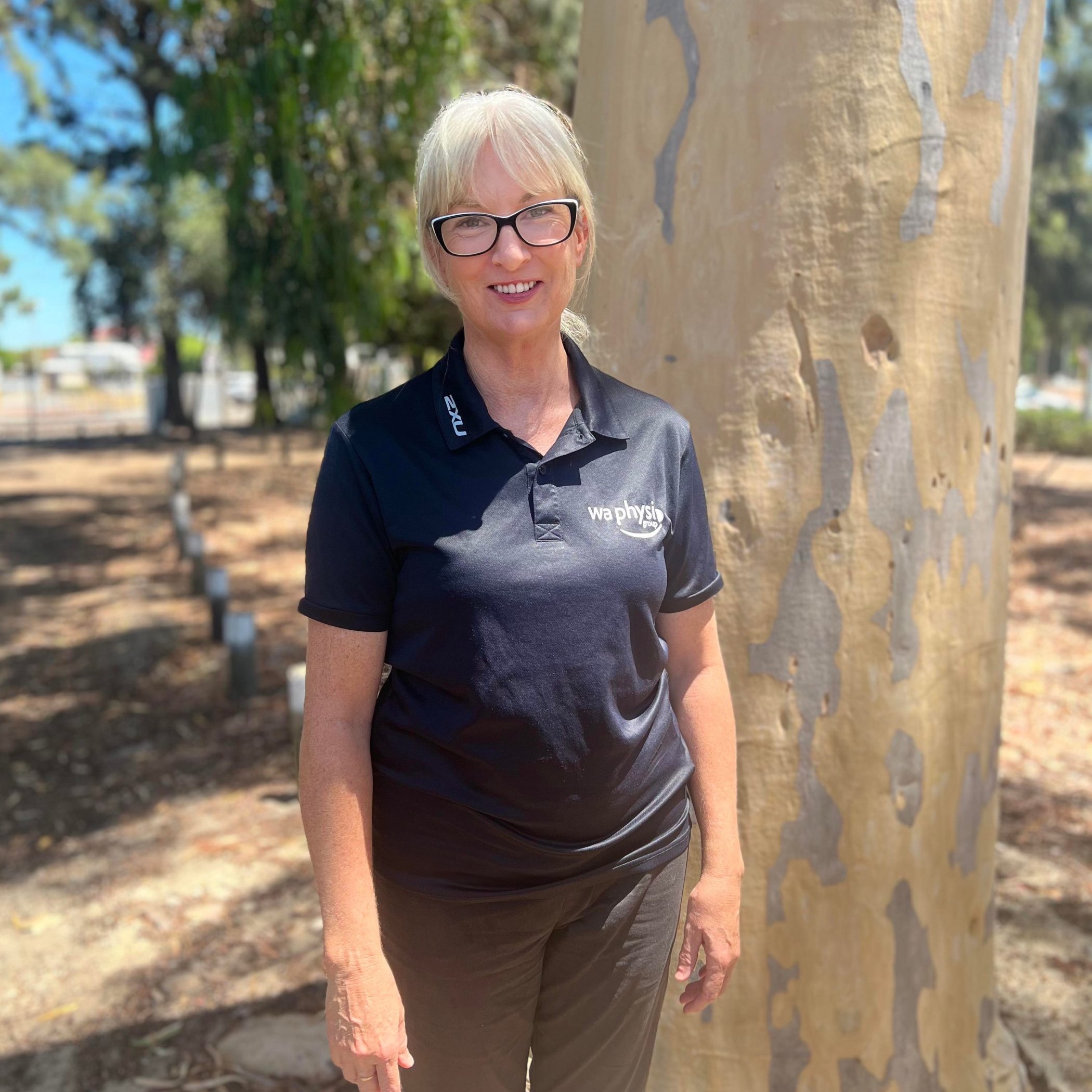 Lisa Wasilew
Remedial Massage Therapist & Registered Nurse

Lisa has been in the health industry for over 36 years.
Working in a variety of roles as a Registered Nurse gives her the necessary skills to understand each of her client's needs and modify her treatments accordingly.
Lisa loves working one-on-one with her clients, thoroughly assessing their posture, movement and applying special tests to correctly pinpoint soft tissue injuries and treat accordingly. Nothing gives her greater joy than to see her clients leave her clinic room happy.
Lisa defines herself as a bit of a massage nerd, so when she is not at work she likes to refine her massage knowledge with online courses and research. Apart from that she enjoys life on her property in the hills with her husband, two daughters and very large garden.
Lisa is trained in the following techniques:

Trigger point therapy

Myofascial release

Deep tissue therapy

Relaxation/Swedish massage

Muscle energy techniques

Cupping
Hours of Operation
Monday - Friday 7am - 7pm
Saturday 8am - 12pm
Sunday 9am - 12pm